Airbnb Consulting Services Now Available
I recently added Airbnb Consulting to my list of services after cleaning homes with Attached and Detached Dwelling Units and becoming increasingly involved with helping to market them. It's not always obvious to someone who has invested time and money into an Airbnb as to why it's not fully booked all the time, so I'm here to help.
To get started contact me to set up an initial consultation meeting and we can go from there.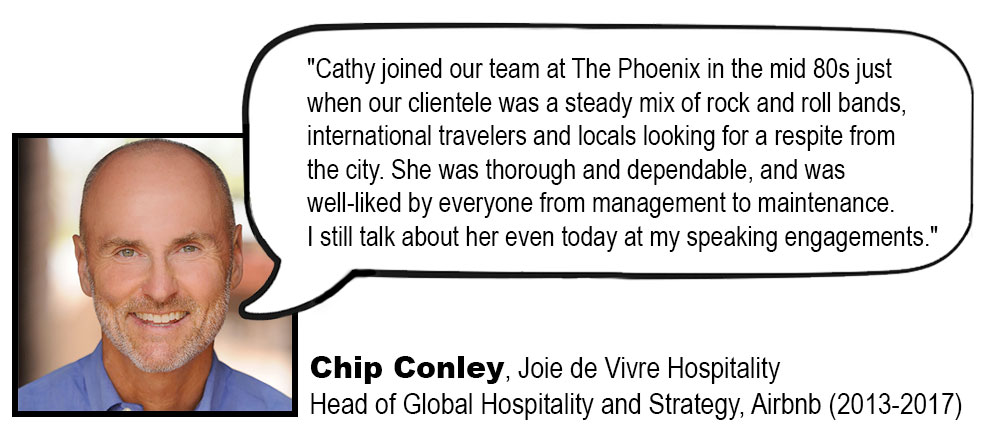 Cathy joined our team at The Phoenix the mid 80s just when our clientele was a steady mix of rock and roll bands, international travelers and locals looking for a respite from the city. She was thorough and dependable, and was well-liked by everyone from management to maintenance. I still talk about her even today at my speaking engagements. Chip Conley, Joie de Vivre Hospitality, Head of Global Hospitality and Strategy, Airbnb (2013-2017)
Cathy Sorbo is a great house cleaner and a pleasure to work with. I have hired her many times to clean houses and apartments for sale or rent. She is organized, punctual, self-directed, extremely detailed and always very thorough. Damon, Greenwood
We hired Cathy for our ADU and were so impressed we hired her for our home care as well - she is trustworthy, cheerful and was a great help for us. I wish we could have taken her with us when we moved! - Alan, Greenwood
I highly recommend Ms. Sorbo's cleaning services. She is an excellent housekeeper and dedicated to surpassing customer expectations. Very dependable and easy to communicate with. Recommend without reservations. Susan, Ballard
Locked and loaded-for-grime, Cathy Sorbo hits every cleaning project with mastery, sass, and a small army of Super Sponges. Highly recommended. Andrew H. U-District
Cathy has been cleaning my townhouse for me and also in between short term guests for more than five years now and I honestly don't think I would have my sanity without her! She is extremely thorough and knows exactly how I enjoy things being cleaned. Trishanne, Greenwood
About Cathy and Northend Housecleaning
My clients have varying needs: one rents her 3-bedroom unit to traveling nurses and lives out of state, so I oversee the condition of her residence as well as provide cleaning on a regular schedule.
A couple of my clients have chronic health issues that limit their mobility and ability to lift, bend etc. And, well, there are those that are just too busy to keep up with the cleaning that their home requires.
I began my cleaning career in San Francisco with a housecleaning company servicing residential clients, then I went onto housekeeping at The Phoenix Inn, a boutique hotel that was home to touring musicians as well as locals who enjoyed "staycations" with the beautiful pool and full-time massage rooms.
I lived in London for a year and had a couple of residential clients.
Upon my return to Seattle I was employed by an agency and worked for several years until I was around 6 months into my pregnancy. When the agency ceased operations several of the clients I serviced used me for their cleaning needs.
After a few years of motherhood, I returned to housecleaning with private clients and eventually secured a 3-year run as weekend housekeeper at The Collegiana (https://tinyurl.com/3v5n8sun), a 28-room hospitality house that provides short and long-term lodging for University of Washington Medical Center patients and their families.
I left that job to concentrate again on private clients and since teamed up with Walkthrough Media (www.walkthroughmedia.com), a real estate photography/videography company to offer real-estate move-out cleans in preparation for staging and photos.
In addition to my residential and real estate work, I currently hold the position of property manager and head of housekeeping at IndigoSeattle (www.indigoseattle.com), a highly rated two-unit airbnb and offer airbnb consulting services that include a walk-through of the property that pin-points items of concern and can help improve the look and feel of vacation rentals.
Please reach out to me via email or the price quote forms - I would love to help!
Keywords: Deep cleaning, Rental cleaning, Airbnb cleaning, Real Estate move-out cleaning, Move-in cleaning, Carpet spot cleaning, Housekeeping, House Cleaning, Home Cleaning, Condo cleaning, Apartment cleaning, Post construction cleaning, Regular cleaning, One time cleaning, Seattle cleaners, Local house cleaner, Professional cleaner, Seattle.